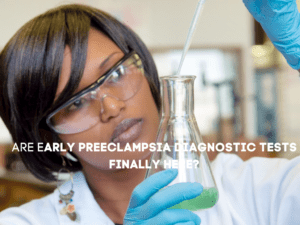 A decision made by the British version of our NIH, the National Institute of Care and Excellence (NICE), sheds a flicker of light onto a very dark landscape regarding maternal mortality. They are authorizing the use of a blood test that will diagnose preeclampsia as early as 20 weeks. This decision is groundbreaking news and will change the landscape of how preeclampsia is currently diagnosed, treated, and hopefully save lives.
NICE is developing a draft of clinical guidelines and believes that African, Caribbean, and Asian women will benefit the most based on their history of adverse birth outcomes.
Here's what you need to know in plain English about the test:
It measures Placenta Growth Factor (PIGF), which is a protein that plays a role in the development of blood vessels in the placenta
Women who have preeclampsia have low levels of PIGF. Low levels of PIGF means that the placenta blood vessels do not grow well
Can these tests diagnose as well as exclude preeclampsia?
Yes, according to published literature cited in the article.
Four independent labs: one in San Diego, two in Germany, and a lab in Finland
What are the benefits of using this test for pregnant women?
The tests will make it easier for healthcare providers to diagnose preeclampsia and make fewer mistakes regarding clinical management.
Are there any economic benefits of using this test?
According to NICE literature, the saving was between 26 pounds ($34.06) to 2,896 pounds ($3,793.76) per patient.
Are there any other early diagnostic tests for preeclampsia?
Yes, there is a test using different technology that measures cell-free RNA as a means of early preeclampsia detection, according to an article published by Nature.com. However, healthcare providers do not currently use this test because it has not been approved as part of clinical guidelines.
I anxiously await the use of PIGF in mainstream obstetrics. We once thought that the adverse effects of preeclampsia stopped when the baby and placenta were delivered. However, we now know that reasoning was wrong based on the number of women who died during the postpartum period. Hopefully, with the future use of this test, women will no longer be discharged from hospitals or emergency departments prematurely. Anything that decreases maternal mortality gives me a glimmer of hope.