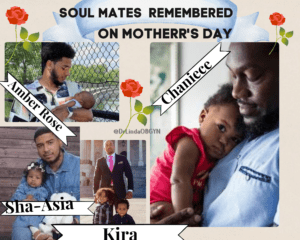 On this Mother's Day, I honor the soulmates of mothers who left before their time on earth based on clinical incompetence, arrogance, and, yes, that dreaded word no one wants to discuss but is ever apparent racism.
Here are some examples of why Sha-Asia Washington, Amber Rose Isaac, Kira Johnson, and Dr. Chaniece Wallace are no longer with us:
Dr. Dmitry A. Shelchkov, a foreign medical school graduate, failed to provide adequate oxygen or monitor three previous patients before finally killing Sha-Asia Washington. He did not give her oxygen when she became short of breath and placed her epidural catheter incorrectly. His mistakes had been known for years, but it took the death of a 26-year-old first-time mother before the New York Medical Board suspended his medical license.
The obstetrician who performed a 17-minute elective C-Section led to a postpartum hemorrhage and the preventable death probably of Kira Johnson. Unfortunately, he probably still has privileges at the infamous Cedar Sinai Hospital.
The ob-gyn residents and their attending physicians at Montefiore Hospital who missed Amber Rose Isaac's dropping platelets are probably still practicing without any accountability except providing a pathetic apology that will not bring her back to life.
And then there's the case that keeps me up at night involving my fellow physician colleague and sorority sister, Dr. Chaniece Wallace. The horrific two-hour delay of starting an intravenous line in the setting of her hypertensive crisis is chilling. Yet, St. Vincent's Hospital in Indiana purports to have given her the best care.
Yet, amid this madness, four remarkable men have turned their pain into action on behalf of their departed soulmates. Their comments and posts on social media platforms demonstrate a palpable love. They speak about their beloved in the present tense. They not only continue to love these women but remain IN love with them despite their physical absence of 6 years for Charles Spurgeon Johnson IV and two years for Anthony Wallace, Juwan Lopez, and Bruce McIntyre III.
These brothers teach us that love continues to win, even in death, and has created beautiful children that represent their legacy.
Today, I salute the soulmates of Kira, Sha-Asia, Amber, and Chaniece, who continue to teach all of us that death has no real power over love, just as it had no power over Jesus, the Christ.
May my sisters continue to rest in Power, and may their memory continue to be a blessing.