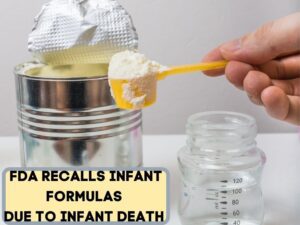 On February 25, 2022, the FDA issued a recall regarding three powdered infant formula brands made by Abbott Nutrition associated with bacterial infections, Salmonella and Cronobacter, which have produced at least one infant death and caused severe illnesses in three.
The contaminated powdered formula was manufactured in Sturgis, Michigan, and cases were reported in Minnesota, Ohio, and Texas between September 20, 2021, and January 11, 2022, involving Similac, Alimentum, and EleCare. The FDA recommends consumers look at the lot code, a multidigit number on the bottom of a container of powdered infant formula. The involved lot numbers are:
the first two digits of the code are 22 through 37; and
the code on the container contains K8, SH, or Z2; and
the expiration date is 4-1-2022 (APR 2022) or later.
Need more information? Please visit Abbott's website to check lot numbers if you have purchased any of the brands mentioned earlier. Abbott has also provided a phone number, 1-800-986-8540. In addition, information regarding symptoms of bacterial infections is located on the FDA's website.
Aside from breast milk, infant formulas are the only source of nutrition for babies and newborns; therefore, this recall is a serious issue. In the interest of public safety, please share this information with all new moms and families.
Asl always, remember knowledge is power. Share and empower.