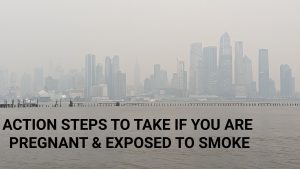 Full transparency: This blog was originally written in 2021 in response to the California wildfires. I never imagined I would be writing to warn the citizens of my birth state about the very same issues.
Do these wildfires affect an unborn baby and its mother? The answer is a resounding yes, in the same manner as cigarette smoke. There are toxins in the air called PM2.5 that adversely affect our lungs and heart. Pregnant women exposed to PM2.5 and other toxins associated with wildfires are at risk for
Small babies
Growth-restricted babies
Preterm labor
Gestational Diabetes
Preeclampsia
Here are the action steps a pregnant woman should take if exposed to wildfires:
Request an ultrasound to document the proper size and weight of your unborn baby
Ask your OB provider about your fundal height to document appropriate growth
Be vigilant regarding monitoring the fetal movement per your OB provider's recommendation, and do not hesitate to contact them if you are not comfortable with the level of activity or movement
Perhaps we need to bring Smokey the Bear out of retirement, but until then, please be safe and share this post to help pregnant mothers do the same.